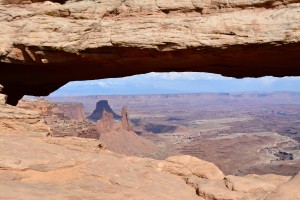 Canyonlands National Park is a U.S. National Park located in southeastern Utah near the town of Moab. It preserves a colorful landscape eroded into countless canyons, mesas, and buttes by the Colorado River, the Green River, and their respective tributaries.
The park is divided into four districts: the Island in the Sky, the Needles, the Maze, and the rivers themselves. The different areas share a primitive desert atmosphere, but each retains its own character. Two large river canyons are carved into the Colorado Plateau by the Colorado River and Green River. Author Edward Abbey, a frequent visitor, described the Canyonlands as "the most weird, wonderful, magical place on earth—there is nothing else like it anywhere.
Canyonlands is a popular recreational destination. On average about half million people visit the park each year. The geography of the park is well suited to a number of different recreational uses. Hikers, mountain bikers, backpackers, and four-wheelers all enjoy traveling the rugged, remote trails within the Park.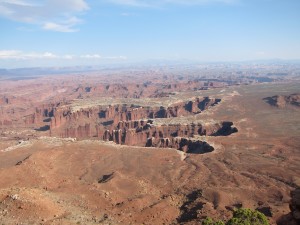 Rafters and kayakers float the calm stretches of the Green River and Colorado River above the Confluence. Below the Confluence, Cataract Canyon contains powerful whitewater rapids, similar to those found in the Grand Canyon. However, since there is no large impoundment on the Colorado River above Canyonlands National Park, river flow through the Confluence is determined by snowmelt, not management. As a result, and in combination with Cataract Canyon's unique graben geology, this stretch of river offers the largest whitewater in North America in heavy snow years.
The Island in the Sky district, with its proximity to the Moab, Utah area, attracts the majority (59 percent) of park users. The Needles district is the second most visited, drawing 35 percent of visitors. The rivers within the park and the remote Maze district each only account for 3 percent of park visitation.
Political compromise at the time of the park's creation limited the protected area to an arbitrary portion of the Canyonlands basin. Conservationists hope to complete the park by bringing the boundaries up to the high sandstone rims that form the natural border of the Canyonlands landscape.
Additional Information:
Arches National Park Map
Arches National Park Information

Related Articles/Nearby Places:
comments